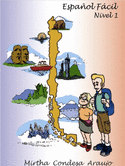 Spanish: Face to Face and Online classes!
From February we are back with face to face and online Spanish classes in Santiago and Valparaíso, but we continue with
Online Classes as well!
Inglés: Clases presenciales y Online
Desde Febrero volvemos con clases presenciales de inglés solamente en Santiago y además continuamos con
nuestras clases de inglés en línea.
Included and extra services:

Services Included in the Course Price

All the programmes of our courses have the additional free services mentioned below:

Material created by our teachers is provided to students according to their individual needs.
Extra sessions offered to promote practical conversation with your teacher or other students
A set of videos, books for reading, and informative magazines are available for the students in order to help them study in their time out of class.
Charitable social activities can also be organized. Possibilities include visits to hospitals, communities of young and elderly people, disabled homes, rehabilitation centers, and psychiatric asylums.
Guided tours of Chilean museums and cultural sites are available during class time, and they have to be previously arranged between you and the teacher.
Coffee, tea, herbal tea, and milk are available for students during their class breaks.
Free! Wireless internet access for all our students when on the premises.
© Copyright Natalis Language Centre 2022