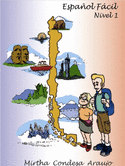 Spanish: Online classes!
For your convenience and well-being we are, for the moment, limiting our classes to
Online Classes only!
Inglés: Clases online
Para su comodidad y bienestar, por el momento, estamos limitando nuestras clases a
¡Clases en línea solamente!
Online classes, Clases en linea
Natalislang International Language Centre, Spanish on-line classes, Santiago, Chile

Natalislang Levels:


Natalislang has designed, among others, three books that cover Level 1, for beginners, Level 2, for intermediate students and Level 3, for advanced students

At the end of each level, the students must take a written and oral test
with a pass rate of 70% in order to continue with their learning process.
© Copyright Natalis Language Centre 2021