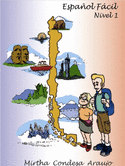 Spanish: Face to Face and Online classes!
From February we are back with face to face and online Spanish classes in Santiago and Valparaíso, but we continue with
Online Classes as well!
Inglés: Clases presenciales y Online
Desde Febrero volvemos con clases presenciales de inglés solamente en Santiago y además continuamos con
nuestras clases de inglés en línea.
Live the Spanish in Puerto Natales

Tours & Spanish classes in Puerto Natales, Patagonia, Chile.

Enjoy the natural wonders of the south of Chile and practice the language. Be a part of a unique experience, surrounded by formidable mountains, ancient forests, and beautiful lakes. Share with the locals in their own language while you improve your skills in Spanish. Come and join an unforgettable adventure.

The tours include: ( Depending on availability! )

Bus tickets.
Entry tickets to the park.
Transfer to Laguna Amarga.
Climbing gear.
First aid kit.
Bikes and helmets.
Safety instructions.

Food and accident insurance are not included.

Al the tours are guided by a certified and highly qualified professional with an extensive experience in mountain guide, rock and ice climbing, glacier ascension, forest fire management, self-rescue techniques, and food, nutrition and hydration in sports.

Our Programs:

Trekking in Mirador Base Torres

This tour starts in Puerto Natalis and finishes in Parque Nacional Torres del Paine, and it includes Laguna Amarga, Hostería Las Torres, Almirante Nieto, Valle del Ascencio, Camping Chileno, a forest of lenga and a glacial moraine.

Sport climbing in Patagonia – Laguna Sofia

This tour goes from Puerto Natales to Laguna Sofia, a lagoon near which there is a breathtaking cliff to practice sport climbing.

Biking day in Patagonia – Puerto Natales – Puerto Bories

The route includes Puerto Natales and Puerto Bories with its historical cold warehouse and several interesting buildings.
© Copyright Natalis Language Centre 2022