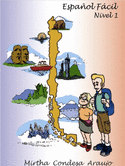 Spanish: Online classes!
For your convenience and well-being we are, for the moment, limiting our classes to
Online Classes only!
Inglés: Clases online
Para su comodidad y bienestar, por el momento, estamos limitando nuestras clases a
¡Clases en línea solamente!
Online classes, Clases en linea
Natalislang Spanish Courses in Santiago & Valparaiso, Chile: Private One on One

Cursos de Español privados, Santiago y Valparaíso, Chile.

One on One Spanish


The private lessons will always have the advantage to create a mutual understanding between the student and the teacher combined with a magical atmosphere where the student feels free to develop without pressure the four skills of the language.
Available in Santiago & Valparáiso. (All levels and subjects).

More details...

Description:

 Individual attention from a qualified teacher helps you learn better and the private classes are made in a way that fits your own unique situation.The main goal of this course is to assist people who are working or studying and need support in the Spanish language.
For travellers, the main goal is to help you get by during your stay in South America. Although grammar is taught, the course is designed to give you a hand with everyday situations, like ordering food at a restaurant, and to help you communicate in a friendly way with native speakers, including your host family.
If you are living in Chile willing to learn Spanish and you do not have time to come to our school, then this is the best option you have.
Our teachers go to your home or office and you will be able to learn the same contents with the advantage of having private Spanish lessons in your own place.

Duration / Schedule:

You can schedule your classes according to your time availability. You also learn at your own pace. You can start the course at any day of the week. Courses are available from beginners to advanced students

Work materials:

Free enrollment… no hidden fees!

| Sessions / min. 2 per class | Price per session |
| --- | --- |
| 20 - 60 at Natalislang | $ 12.000 ( US$ 20, € 16, ? ) |
| 61 - 120 at Natalislang | $ 11.000 ( US$ 18, € 15, ? ) |
| 20 - 60 at Home / Office | $ 16.500 ( US$ 27, € 22, ? ) |
| 61 - 120 at Home / Office | $ 15.400 ( US$ 26, € 21, ? ) |

* Minimum two sessions per class.
* 1 session = 45 minutes
** Home prices could change according to location.

+56 9 8885 8910

Contact form

Quick conditions summary
Flexible schedule
Our groups are a maximum of 5 students and the sessions last 45 minutes.
We offer 5% discount for ITIC, ISIC and IYTC card holders (cards MUST be presented before payment)
Lessons on weekends have a 5% extra fee.
The learning materials corresponding to the student's current level will be given after payment. In the case of loss, theft or extra requirements, all the Natalislang materials can be purchased at the school administration.
The student cannot continue with the program if he/she has not paid the total program cost by the second day of class.
After course confirmation, the administration personnel will contact the student one week before his/her arrival.
The payment of differences between one course to another is not allowed (e.g. if you pay for 2 weeks and want two more weeks, you have to pay the price corresponding to the 2 week program and not the difference to a 4 week program).
Free! wireless internet access for all our students while on the premises.
Note! The payment must be done the first day of class.
We appreciate if you pay in Chilean pesos.
Tours & extra costs are not included in the course prices.
We encourage students to communicate any compliment, complaint or suggestion on time and not to wait until the last day of class.
If the student needs to cancel or postpone the lessons, he/she must give the school at least 24 hours notice, or the session will be lost at the student's expense.
By rule, a refund would not be given if you withdraw. If for whatever reason a student needs to freeze his/her sessions, the course fee may be credited towards a future course for up to six months from the last lesson taken, after which the fee is no longer valid. You are allowed to transfer your sessions to a friend or student.
"We accept Visa, MasterCard, Magna, American Express, Diners Club and Discover cards" with a 5 % extra fee.
View our policies

.
© Copyright Natalis Language Centre 2021