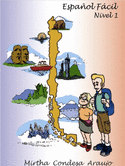 Spanish: Online classes!
For your convenience and well-being we are, for the moment, limiting our classes to
Online Classes only!
Inglés: Clases online
Para su comodidad y bienestar, por el momento, estamos limitando nuestras clases a
¡Clases en línea solamente!
Online classes, Clases en linea
Natalislang International Language Centre, Spanish on-line classes, Santiago, Chile

Natalislang:

Our activities:

Bubbles

Our "Bubbles" are going to help you learning, polishing and practicing your gramatical knowledge of Spanish.

By choosing one of our bubbles you will be able to acquire a pre-recorded lesson in which one of our teachers is going to explain the grammar topic to be discussed in a theorical and practical way by the means of an exercise related to the topic.

After you finish your exercise, you will have a 45 or 90 minutes lesson* depending on the bubble you selected (previously scheduled) with the teacher to clarify any remaining doubts and also to receive feedback on the exercise.

Bubble duration: depends on the topic
One on one session duration: 45 or 90 minutes
Level: Beginner - Advanced
Practice with a native teacher

*Due to different time zones, your lesson will need to be scheduled beforehand by an email which is going to be sent once you purchase your activity.
© Copyright Natalis Language Centre 2021