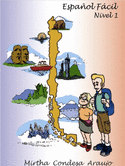 Spanish: Online classes!
For your convenience and well-being we are, for the moment, limiting our classes to
Online Classes only!
Inglés: Clases online
Para su comodidad y bienestar, por el momento, estamos limitando nuestras clases a
¡Clases en línea solamente!
Online classes, Clases en linea
Natalislang International Language Centre, Spanish on-line classes, Santiago, Chile

Natalislang:

Our activities:

Comprensión Y Expresion Oral

(Listening and speaking - comprehension and practice)

By getting this tool, you will receive audio previously chosen by you among Natalislang´s offer along with questions about what you have listened to. And then you will meet one of our teachers who will guide you through extracts from interesting stories or books that will help you improve your listening and speaking skills.

This exercise has a duration of 45 minutes*, where the teacher will measure your listening comprehension through questions and change the plot including vocabulary of the reading.

One on one session duration: 45 minutes
Levels: Beginner, Pre-intermediate, Intermediate, Advanced
Practice with a native teacher

*Due to different time zones, your lesson will need to be scheduled beforehand by an email which is going to be sent once you purchase your activity.
© Copyright Natalis Language Centre 2021